General:
Your Name, Age, Gender and Location:
Hey, my name is Imre, I'm an almost 22 years old male from Hungary.
Tell us a little bit about yourself (non-WoW related Interests, Hobbies etc)
I'm currently studying mechanical engineering at an uni, so I don't have too much time for hobbies except wow, however I like to occasionally go out with friends, smoke some shisha or drink a couple of beers. Or both.
Character Information:
Armory Link:
https://worldofwarcraft.com/en-gb/character/eu/ragnaros/%C3%84zzin%C3%B8th
Battletag:
vapenation#2635
Describe your choice of talents and why you've chosen them:
The only talent I can really change is the 2nd row, where I picked MA, since I'm running 3xNP and 3xDD traits.
How do you prioritize your stats and why?
I sim myself, as well as compare my gear and performance to top logs and evaluate how much I should trust the sims.
Where do you acquire knowledge about your Class?
Rogue discord, Ravenholdt.net, wowhead, mmochampion, warcraftlogs.
Paste a your UI via [img]LINK[/img] IN COMBAT
(Ensure that all Key Bindings are visible)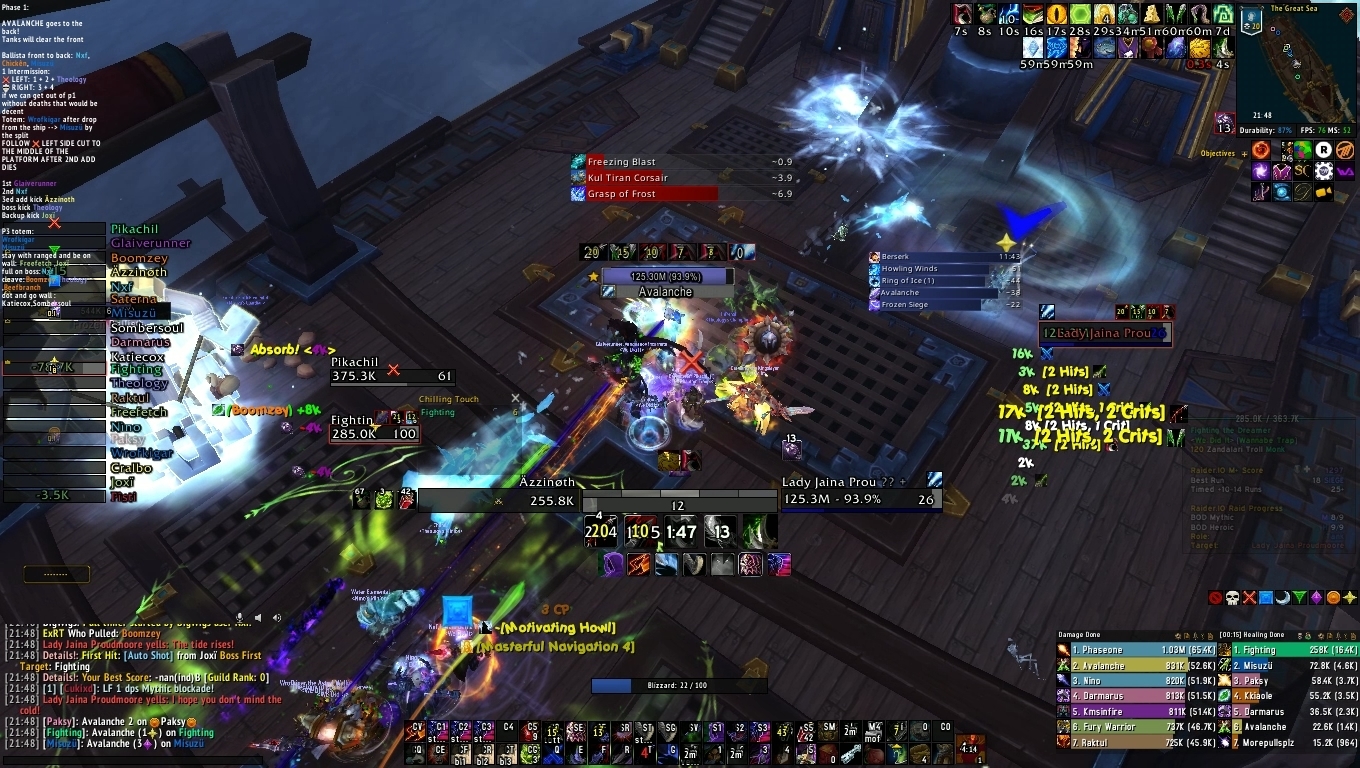 What state is the state of your Heart of Azeroth?
max
Link to your raid logs using using [url]LINK[/url].:
my logs profile:
https://www.warcraftlogs.com/character/id/39557067#bybracket=1&private=1
my jaina progression logs:
Raiding History:
Describe your previous/current raiding experience:
8/9M ToS 10/11M Antorus, currently 2/9M in BoD with first and last boss kills.
Tell us about your previous guilds and your reasons for leaving them:
I've started mythic raiding in HFC with friends, my notable guilds were
Imperfection
on Frostwhisper ( we killed avatar but the guild disbanded after)
Leviathan
on Twisting Nether ( I had to step down 300+pulls in on argus due to some school/personal issues which I've fixed since, but the guild disbanded last fall.)
My current guild is
We Did It
on Ragnaros, I've joined and trialed during Jaina.
I started playing again in late march, I'm really happy that we managed to get CE, however I would like to progress at a higher pace.
More Information:
Can you meet our raid schedule of Wed/Thur/Mon 21:00 to 00:00 server time with at least 90% attendance?
Yes
We also raid on Sunday at the start of a new raiding tier. Are you aware of this?
Yes
Are you able to Listen and Speak on Teamspeak?
Yes
What qualities do you bring to a Raid?
Dedication and skill.
How comfortable are you playing your offspecs?
I was playing sub for the most part of legion, currently I'm playing outlaw in dungeons.
How do you feel about progression raiding?
No other game can provide the feeling I get after a boss dies on mythic. Especially if a lot of pulls/time is invested in it.
Where did you hear about Curse of Years and do you know anyone in the guild?
Wowprogress and no.
What encouraged you to apply to Curse of Years?
As I've stated above, I'm looking to clear mythic content at a higher pace.
Do you play outside of raid?
Yes, I like to do keys however I didn't have too much time for that in the past weeks, also my key buddies from legion already have a full group. Other than that I really enjoy playing my warrior and mage aswell.
Is there anything else you'd like to add to your application?
No
Tell us a joke:
My girlfriend's dog died, so I tried to cheer her up by getting her an identical one.
It just made her more upset. She screamed at me, "What am I supposed to do with two dead dogs?"