General:
Your Name, Age, Gender and Location: Sebastian, 26 and I'm from Denmark.
Tell us a little bit about yourself (non-WoW related Interests, Hobbies etc)
On an everyday basis, I study to become an electrician. I'm currently only finishing the first 6 months, so I've got quite a way to go. Besides that I spend some of my free time at the gym or playing American Football.
Although most of my free time goes into World of Warcraft.
Character Information:
Armory Link:
https://worldofwarcraft.com/en-gb/chara ... /T%C3%A1co
Battletag: MrBromantic#2857
What strengths does your class currently bring to the raid (eg; Arms warrior bringing 2 target cleave and execute or Nightfae hunters bringing AOE burst).
Currently MM hunters bring great AOE dps to raids. With their 3+ target cleave and wild spirit's being as good as it is. Besides that hunters bring one of the games greatest utilities, movability. With all the current mechanics being, soak this over here or move this blueshit over here, hunters have become some of the biggest mechanic Michaels to this date. Raid leaders don't have to worry about assigning hunters to do stuff at the cost of their damage, because we can easily do both.
Besides that we bring Immune. Zzzz
Some of our current greatest weaknesses though, is our squishyness. Currently MM hunters do not have the best set of defensive cooldowns in the game, and thus often require us to be healed more, or in worst cases, die.
How comfortable are you playing your offspecs?
I am very comfortable in both of the Hunter specs (MM and BM).
Paste a your UI via [img]LINK[/img] IN COMBAT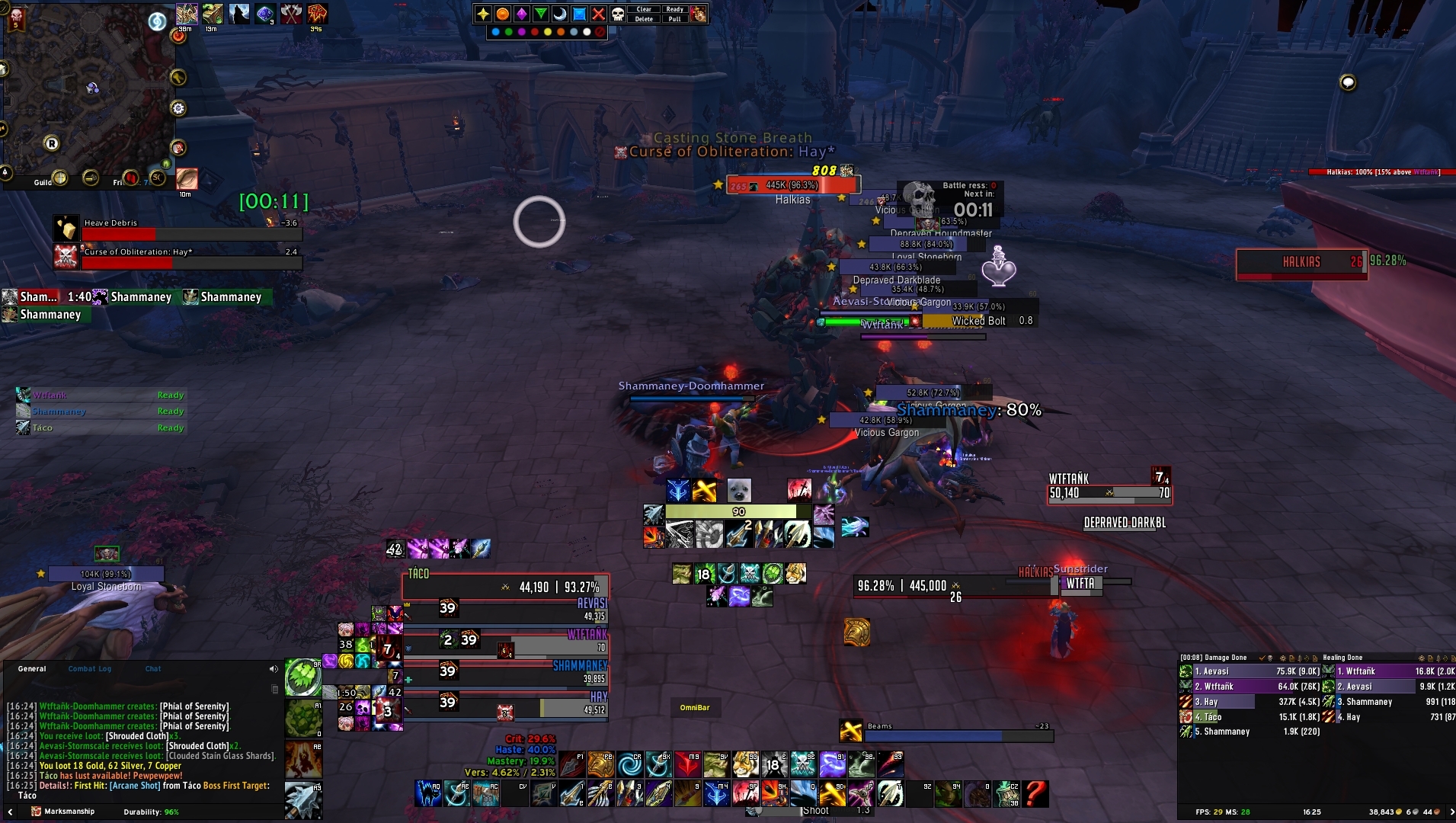 Link to your raid logs using using [url]LINK[/url].:
https://www.warcraftlogs.com/character/ ... t%c3%a1co#
Raiding History:
Describe your previous/current raiding experience:
I've been raiding for as long as I remember with some break here and there.
My raiding history started in ICC. Nothing Impressive.
Fast forwards to MOP with only filthy casual raiding in between.
Started raiding heroic for the first time in Siege of Ogrimmar.
Steady pace from there. First cutting edge in WOD on Archimonde.
Cutting Edge Xavius, and then some close calls the next couple of tiers.
Going from guild to guild due to guild dying. Find steady home in Misplaced Elitism during the start of BFA.
Only last boss away from cutting edge in each tier (Then classic happened).
We finally get solid people for Ny'alotha. Guild gets cutting edge, while I was out celebrating my birthday, we never re-kill. Sadpepega.
Misplaced Disbands, becomes ONYX, we clear 6/10 Mythic. Entire officer team steps down, another new set of people come in and take over, it became a mess. I ended up taking a little bit of a break up until now, where I've solely focused on pushing IO in the weekends, and boosting M+ after school. I may not have raided for a little bit, but I never let myself get entirely cold.
More Information:
Can you meet our raid schedule of Wed/Thur/Mon 21:00 to 00:00 server time with at least 90% attendance?
Very easily. These times fit me better than any other guild I could find.
What encouraged you to apply to Curse of Years?
Being on the same server. I just moved all of my Characters over here on a wim. Now they need a home.
Do you play much outside of raiding?
Too much unfortunately.
Is there anything else you'd like to add to your application?
I'm currently also gearing a Fire Mage which will become my future alt. My only other viable alts currently are: Guardian Druid/Restoration Druid and Vengeance DH.