General:

Your Name, Age, Gender and Location:
Alistair, 24, Male, UK
Tell us a little bit about yourself (non-WoW related Interests, Hobbies etc)
I like most sports, especially football. Outside of WoW I'm not really into MMOs or similar games, I tend to play shooters or sports games in my spare time. WoW is the main priority for my spare time.
I'm an accountant by day and work with veterinary practices as I have an interest in animals.
Character Information:
251 ilvl Mage. Garybarlow on Tarren Mill Horde. Willing to transfer for the right guild.
Armory Link:
https://worldofwarcraft.com/en-gb/character/eu/tarren-mill/garybarlow
Battletag:
#Frosty2868
What strengths does your class currently bring to the raid (eg; Arms warrior bringing 2 target cleave and execute or Nightfae hunters bringing AOE burst)
Mage on the whole brings a healthy mix of diversity in its damage profile to Sanctum of Domination for me. Frost provided really strong cleave and funnel damage on early progress and then fire proved to be useful with it's on demand burst and beneficial cooldown timings on the challenging bosses of the tier, Painsmith and Sylvanas.
Arcane with its kyrian build brings very strong burst. I personally prefer fire for its execute mobility, cheat death (not that I need it right? :) ) and overall playstyle, but had arcane ever been mandatory I would have made the switch.
How comfortable are you playing your offspecs?

I play frost and fire to an equally high level, arcane needs some work. I was asked to specialise in frost for this tier so have not put much practice into arcane.
Paste a your UI via [img]LINK[/img] IN COMBAT
(Ensure that all Key Bindings are visible)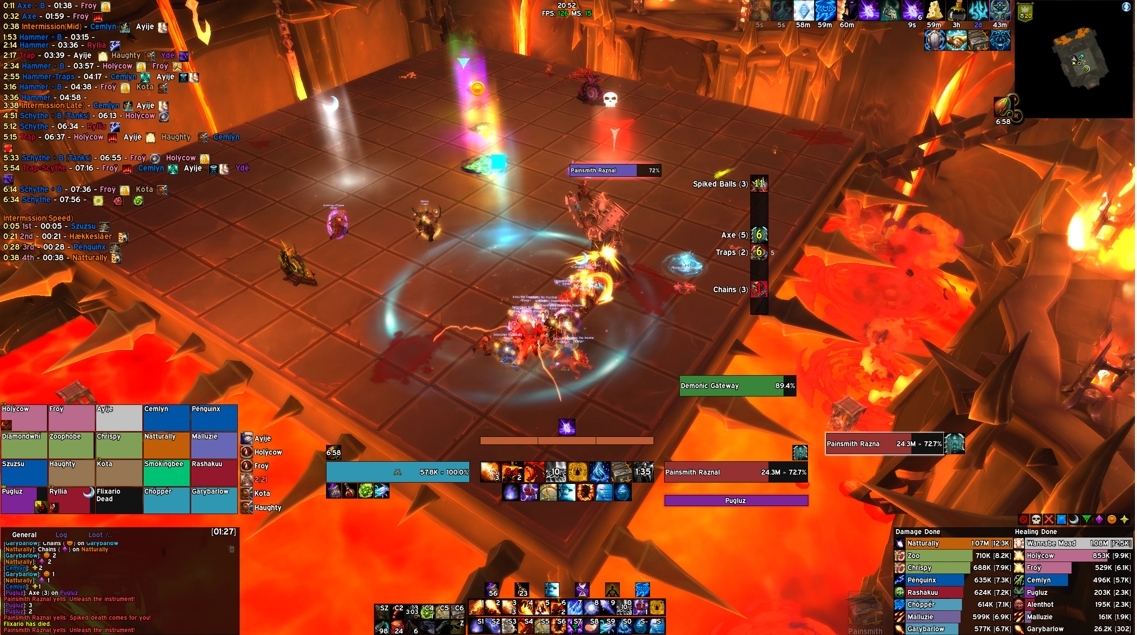 Link to your raid logs using using [url]LINK[/url].:
https://www.warcraftlogs.com/character/eu/tarren-mill/garybarlow
Raiding History:
Describe your previous/current raiding experience:
I was a hardcore raider on Arathor Alliance (Obstinant Evolution, 10 man realm first goal) up to the end of Cataclysm and took a long break, returning to play casually with The Imperium throughout various stages of the game. I got back into mythic raiding in Nyalotha and swapped to Horde on Tarren Mill for Shadowlands, where I was asked to play mage for the first time by a guild called This Is Madness. I picked it up quickly and was able to perform well in my opinion. I was asked to be the DPS officer during mythic CN progress as I am a proficient multiclasser and we achieved 7/10, hitting a wall on Sludgefist.
I left that guild because we were unable to put a team together on a weekly basis and I joined Elegy (also Tarren Mill) towards the end of CN, which was a guild I enjoyed being in immensely for its positive, team based atmosphere and we achieved rank 585 on Kelthuzad. Sadly the guild disbanded on 9/10 in Sanctum.
I have very recently been asked to trial for Casual Raiders (Tarren Mill), however I have decided to cease my trial with this guild because it does not seem to be a good fit - I've been in the guild for about 4 days and seen enough racism and homophobia to last a good while. I have a thick skin and I'm up for a joke but at the same time it is a bit extreme for my liking. This is the only guild I've ever left during a trial period to be honest.
More Information:
Can you meet our raid schedule of Wed/Thur/Mon 21:00 to 00:00 server time with at least 90% attendance? Yes, I'm on holiday for 5 days at the end of October but should be 100% attendance other than illness or emergencies.
What encouraged you to apply to Curse of Years?
The raid schedule suits me perfectly, it seems like a nice guild and it would be great to come back to my home on Arathor! Most of my alts are still alliance characters on the realm so it would save me some money to not need to transfer them all to Tarren Mill.
Do you play much outside of raiding?
I am a big m+ player - not necessarily pusher but I like to play with my friends whenever they're online. I like to shoot the shit in discord / TS with friends and guildies as well.
Is there anything else you'd like to add to your application?
I would like to trial as a cross-realm raider if you would allow that.