General:
Your Name, Age, Gender and Location:
Niko, 23, Male, Norway
Tell us a little bit about yourself (non-WoW related Interests, Hobbies etc)
I am a fulltime computer engineering student, so I am quite interested in tech and have a passion for troubleshooting computers.
I follow F1 religiously and follow football during the big championships.
Character Information:
Armory Link:
I am intending to play either Warrior or Enhance shaman, but the rogue was my 9.1 character so I am linking that here.
https://worldofwarcraft.com/en-gb/chara ... ll/cresqet
Battletag:
Cresqet#2273
What strengths do you feel your class currently brings to the raid?
I am applying with the intention of playing Enhance or Warrior depending on what you need the most.
Both Enhance and Warrior brings a lot of especially ST damage, but Warrior also shines on cleave.
Winfury totem is an increasingly hot topic, and the amount of free damage it can bring to the raid is invaluable.
Rallying cry is the main reason we see so many warriors in the highest end of raiding. Of course the amount of damage they have been doing in the last couple of raids also helps.
How comfortable are you playing your offspecs?
I have limited experience with Resto/Protection warrior. But I have played quite a lot of Elemental shaman, and both warrior specs.
Paste a your UI via [img]LINK[/img] IN COMBAT
(Ensure that all Key Bindings are visible)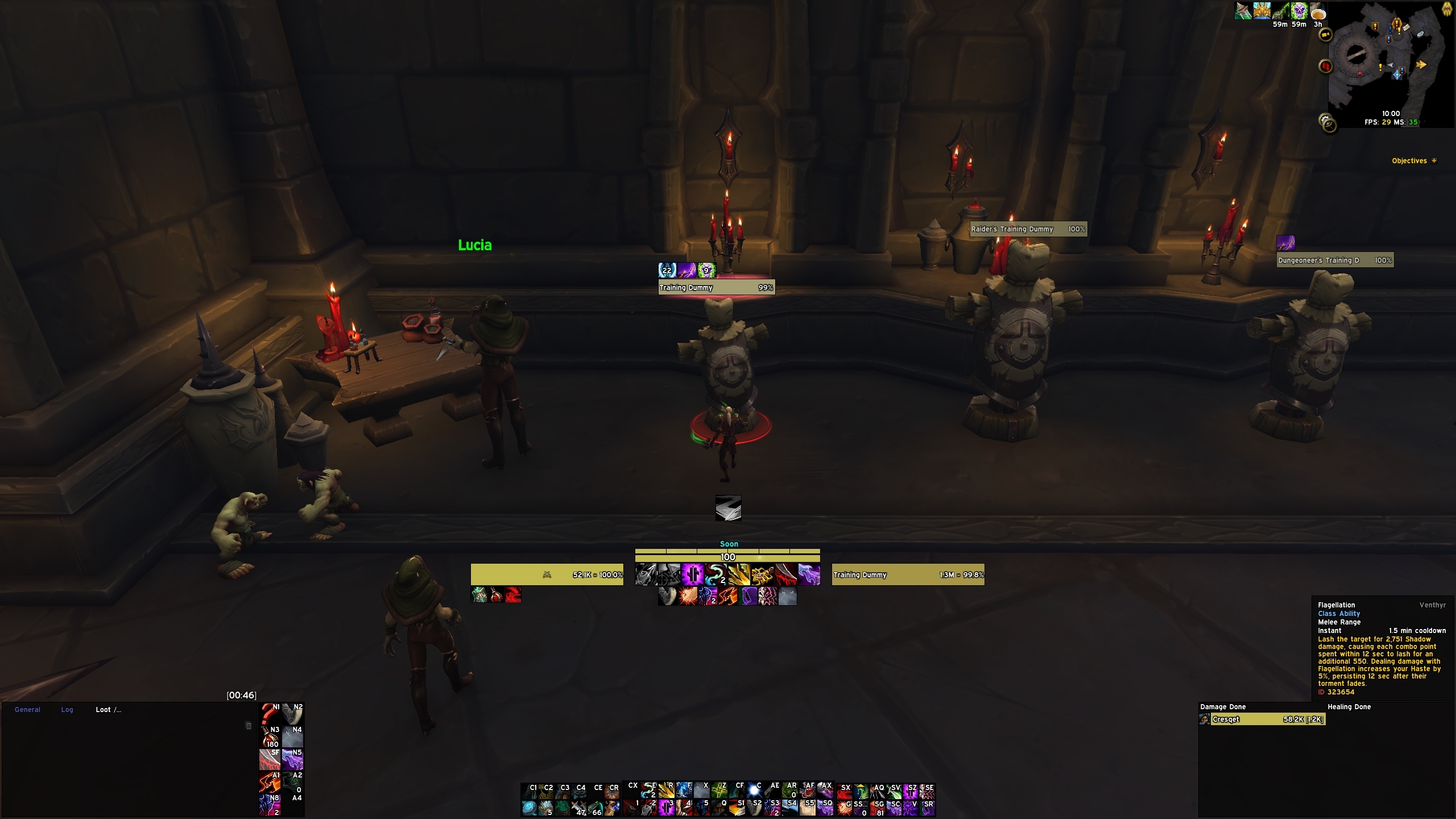 Link to your raid logs using using [url]LINK[/url].:
https://www.warcraftlogs.com/character/eu/tarren-mill/cresqet
https://www.warcraftlogs.com/character/eu/tarren-mill/cresqet?zone=24&new=true#partition=-1
Raiding History:
Describe your previous/current raiding experiences / guilds. including reasons for leaving them:
I was introduced to wow in late 7.2 so my Mythic experience did not start before 7.3
During 7.3 I was trying to find a good baseline from where I wanted to go, starting on alliance early in the patch. I found myself progressing with "Implosion" on Horde TarrenMill.
This went well, but due to burnout the GM disbanded the guild first night on Argus. I played almost all day all night during 7.3, so the fact that our guild just disbanded like that was a heavy hit. But I had other things to focus on, and no ties left in wow, so I decided to take a break.
I returned for 8.3 where me and some RL friends joined a guild called "Quick Release". The officer team there had some internal issues during late progress. So the raidlead and most of the raid team migrated to a new guild after Ilgynoth called "Stolen Raiders". I remained here for CE in 8.3 and progressed CN with them as a DK in 9.0
Internal issues in the officer team led to a disband late 9.0, but I was not raiding at that time due to an IRL emergency. My RL friends quit the game, and I was hungry for better progress in a more timely manner.
I applied to several guilds on Tarren Mill in 9.1, and eventually Aluren decided to trial me. Here I was introduced to a whole new way to think about the game. The focus shifted from trying to maximize DPS at the cost of everything, to simply mitigating and avoiding as much damage as possible.
I was brought in around the time they were on soulrender. I got two simple tasks, press your defensives as efficiently as possible, and single target the boss, since adds were handled by an elemental shaman and WW monk. Even though this might sound like second nature to raiders of your level, I was coming from an environment where all that mattered was looking good on logs for the officers.
I was a bit intimidated at first. Having so many good players around me at the same time, was unfamiliar to me. Suddenly everyone was pulling their weight, officers were looking at logs for mistakes. Hell, even grinding rep/gear outside of the raid. I fell in love with the environment here immediately.
Progressing the other bosses went by very fast for what I was used to, Painsmith progress was my highlight. Raiding has never been as fun for me as that boss. I was benched on Fatescribe, but progressed every other boss. I am by no means a perfect player, and made tons of mistakes, but I believe this tier made me a more complete raider.
More Information:
Can you meet our raid schedule of Wed/Thur/Mon 21:00 to 00:00 server time with at least 90% attendance?
Yes
What encouraged you to apply to Curse of Years?
A couple of players from Aluren joined your ranks (Delek, Seb and Kollb). And your raiding schedule fits perfectly with my student duties, so that it never collides.
Your guild is also a longstanding one, which is very important to me. I have been in short lived guilds before, and the sense of stability that Curse of years can provide, is a big motivation for me to apply here.
Do you play much outside of raiding?
I play every day, and almost all day. The exceptions are whenever I have a delivery due at school, which usually grabs my attention for one night every other week, but outside that I am very active.
Is there anything else you'd like to add to your application?
I am aware your raiding team might be quite filled up at this point, but I consider myself a fairly open minded guy, and don't mind being benched. I also consider this a potential long term commitment, as I would like to remain in the same guild for several tiers.
If you look through my logs for this tier, you will find that I rarely risk my death for more dps. The best example of this is our Painsmith progress. I would say that boss was my best performance this tier, and the boss I improved on the most in terms of utilizing my full kit.
If there is anything you felt I left out, or anything I should elaborate on, feel free to dm me on discord (Cresqet#1757), or just post it as a response to this.